🔵Scugog Craft Beer and Cider Festival
Friday, August 11, 2023 5:00 PM - Saturday, August 12, 2023 11:00 PM (EDT)
Description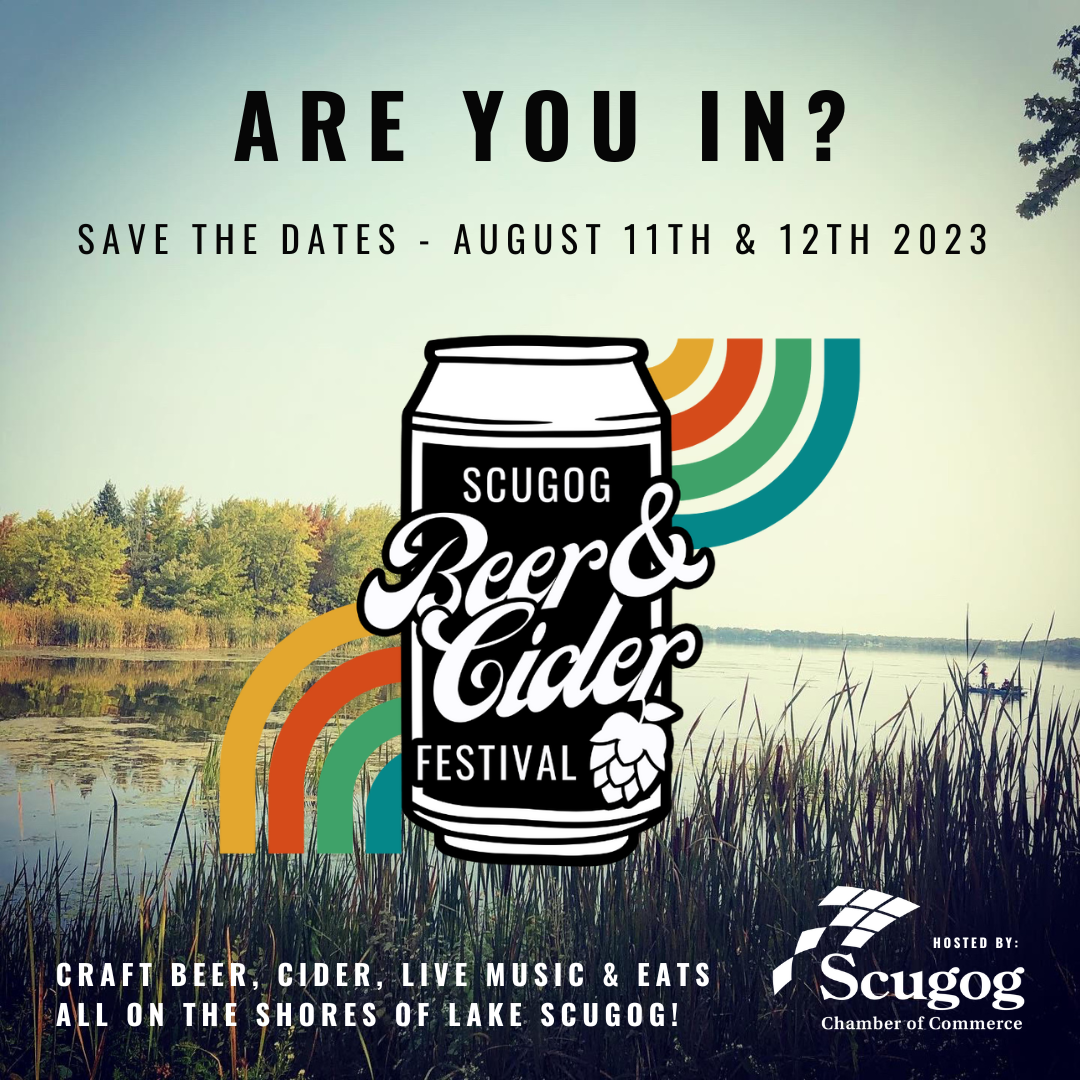 The Scugog Chamber of Commerce is pleased to announce that the Scugog Beer & Cider Festival is back for 2023 and we want YOU to be there!

This highly anticipated annual event is presented by Great Blue Heron Casino & Hotel.
The festival will be held on Friday, August 11th, from 5:00 pm to 11:00 pm, and Saturday, August 12th, from 1:00 to 11:00 pm in Palmer Park in Downtown Port Perry, on beautiful Lake Scugog.
Our Beer & Cider Festival highlights the best that Durham Region has to offer in breweries, cideries, and grassroots musical talent. Think of this signature event as an awesome backyard party, complete with live music, craft beverages, food trucks, and of course, great company!
By day, guests will experience a grassroots musical afternoon! By night, we are lighting up the gazebo with an urban street vibe filled with suds and sounds!
Here's what your ticket includes:
🍺 A commemorative glass beer stein to take home
🍺 Two drink tokens redeemable with any of our drink vendors
🍺 Live musical performances from local artists
🍺 Access to the local food trucks inside the event
🍺 The ability to participate in fun games, such as Cornhole brought to you by the Port Perry Legion, and Giant Jenga and Connect Four brought to you by Air Bounce Adventures
🍺 The chance vote in both the People's Choice Award (for drink vendors) and our first ever Label Design Contest (in partnership with Scugog Arts)
Here are the craft drink vendors we're expecting:
1. Old Flame Brewing Co.
2. Two Blokes Cider
3. Brock St. Brewing Company
4. Lindsay Brewing Company
5. Capt. 25 Craft Beer
6. Couchiching Craft Brewing Co.
7. Glory Days Brewing Company
8. Stonehooker Brewing Company
9. Bancroft Brewing Co.
10. Town Brewery
11. Overflow Brewing Co.
12. Haven Brewing Company
13. Hip Vodka
14. Rice Lake Hard Cider
Here are the local food vendors providing delicious eats:
🍔 The Sandwich Shack
🍕 Lowlands Fire Food
🍖 Stuttering John's Smokehouse
Check out the live music schedule: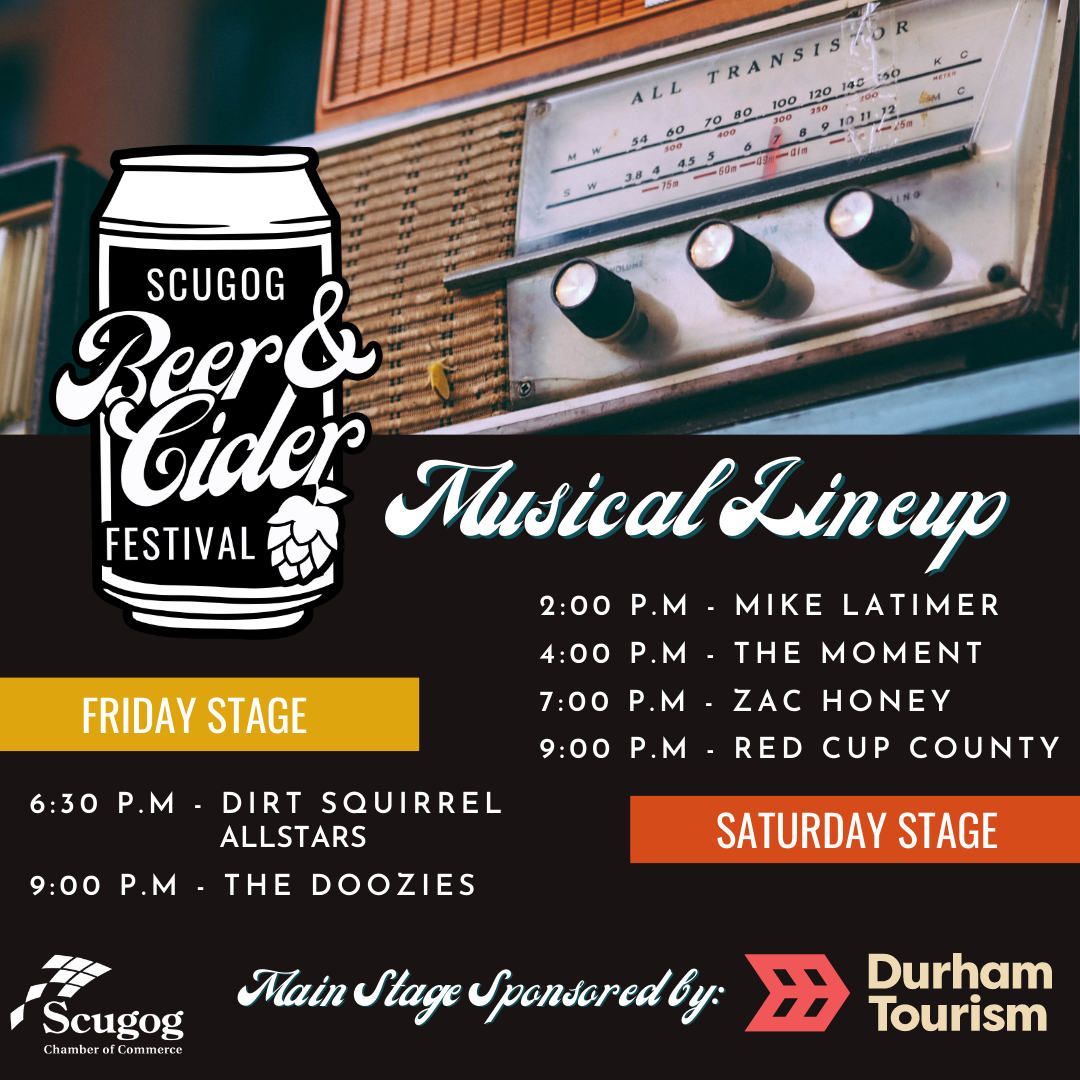 Drink Token Pricing:
1 Token - $3
2 Tokens - $5.50
5 Tokens - $13
10 Tokens - $25
🍻 1 Token = 6oz pour
🍻 2 Tokens = 12oz pour
Pricing

Friday 5:00 P.M. - 11:00 P.M.
$30.00 + HST
Saturday 1:00 P.M. - 11:00 P.M.
$35.00 + HST

Friday & Saturday
$60.00 + HST
Palmer Park
175 Water Street
Port Perry, ON Canada

Friday, August 11, 2023 5:00 PM - Saturday, August 12, 2023 11:00 PM (EDT)
Friday Aug 11th - 5pm - 11pm
Saturday Aug 12th - 1pm - 11pm
Categories
Chamber Events

Submit Your Event
Share your community event with a wider audience by submitting it to the Scugog Chamber of Commerce Event Calendar! Whether it's a local festival, business workshop, or special gathering, let your event shine by reaching the vibrant community through our calendar. Boost attendance, engagement, and community spirit by showcasing your event on a platform trusted by locals.
Each year the Scugog Chamber of Commerce has the pleasure of hosting 4 Signature Events. To learn more about how you can get involved in any of them click on any of the images below.